It's the real plus in the organization.
Labelled ULTIMATE FISHING CENTER PANAMA, it is graciously made available to you 5 of the best models of the Tenryu tropique range.
El Diablo for light fishing, Furrary Racing (60lbs) and Popping (80lbs) and Travel (80lbs) for poppers, stick bait and swimming fish and Big Fiber Jigg for jigging.
Thank you ULTIMATE FISHING.
Equipment to take away
They are provided on the spot, but nothing prevents you from coming with your own equipment, in case of breakage of a lent cane, a participation to the expenses of 250 euros will be asked to you.
Three throwing rods in 30-40lbs, 60 lbs or 80-100 lbs
A tropical Big Fiber Jig TEN RYU type Jig Cane
TAKEAWAY REELS
A small reel type Shimano 5000 (30 lbs braid)
In DAIWA 4500 or 6500 TYPE SALTIGA HI (mini braid 80lbs)
In SHIMANO Type 8000, 10000 or 18000 Stella (80lbs mini braid)
Fluoro of 40, 100, 150 and 250 LBS
THE LEAVES
Popper: Roosta popper (HALCO) large and small
Feed popper(Tackle House 120 and 150mm)
Dumble popper (Serves) large and small
A complete list adapted to the selected period will be sent to you with your quote request.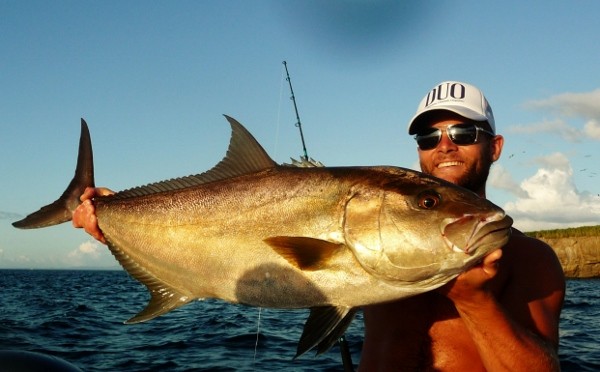 Leurres a bavettes:
Sorcerer 150 (HALCO)
Lazer Pro 180 (HALCO)
BKS (Tackle House)
JIG:
60 a 200 g
Types Mucio Lucir ou Long Jigg
ACCESSOIRES
Hameçons:
Octopus: 2/0, 6/0, 10/0
Circle hook: 10/0, 14/0
Mitraillette a lançon gros modèle
Bas de ligne:
De 60, 100, 150 et 250 LBS
anneaux brisé Decoy heavy numéro 6, 8 et 10
Une paire de gants tropiques ainsi qu'un chapeau et chemises longues pour éviter les couts de soleil, une ou deux paires de lunettes de soleil polarisantes, appareil photos et crème solaire.
NB : Une liste du matériel mise à jour et adaptée à la période précise vous sera remise lors de votre demande de devis